Summer Trend Report
Layering in style with bold pattern, surprising color, all-natural texture, and plenty of moody contrast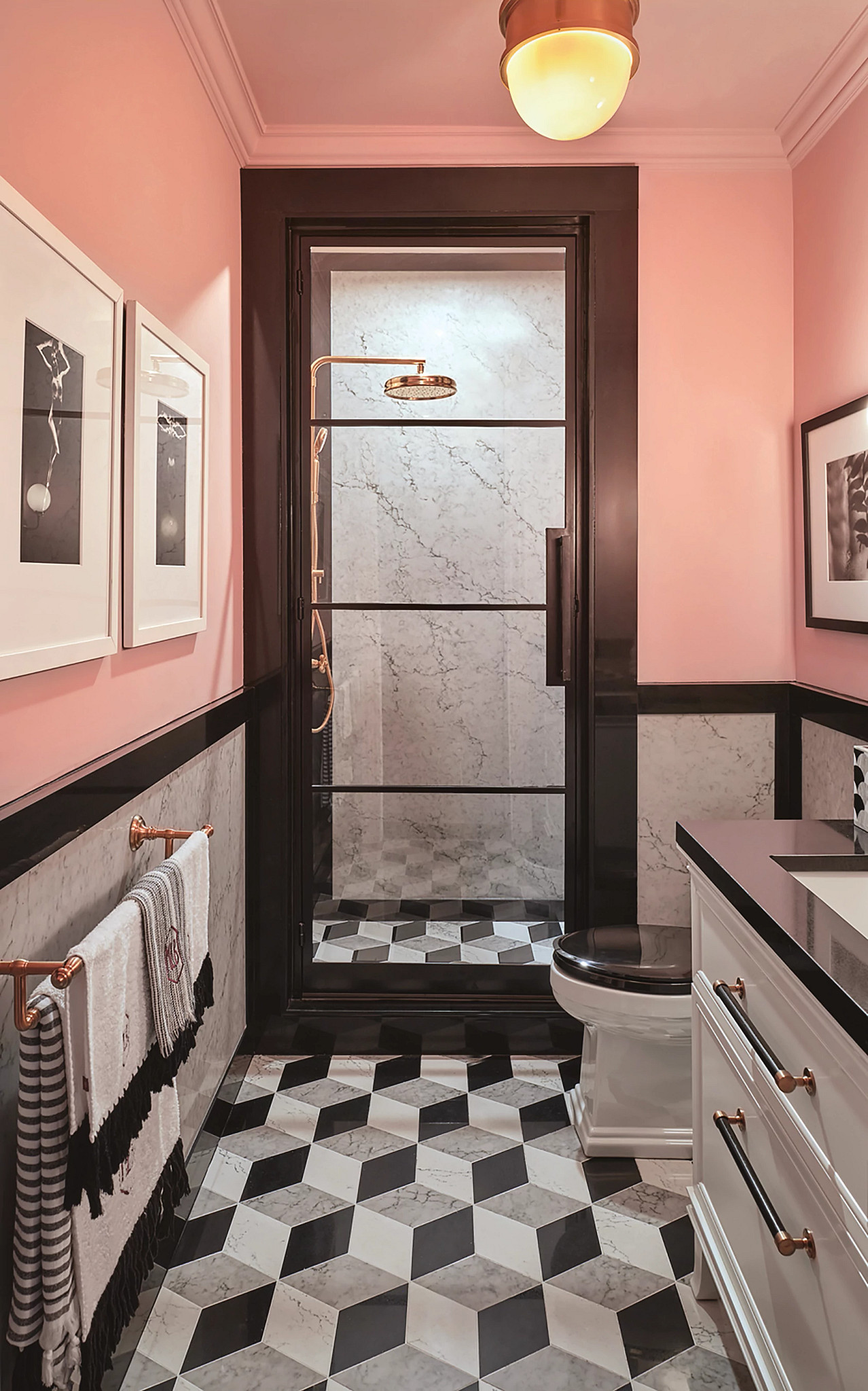 I've always believed that the best interiors are those that embrace a varied style," shares Martyn Lawrence Bullard. "So here we have elements of Europe and India, a vintage vibe, plus some modern art elements to keep it all fresh." Cambria designs shown: BRIDPORT, CAMBRIA BLACK, SUTHERLAND.
NO. 1: Global Getaway
Known as a luxury designer for some of the world's best-known names,
MARTYN LAWRENCE BULLARD
did not disappoint when it came to creating a transporting primary bathroom for the Kips Bay Decorator Show House Dallas. "I wanted it to be a fantasy escape, a space that makes you feel like you're on vacation," says Bullard. Pulling in far-flung design influences—from top Paris hotels to Indian palaces—Bullard added richness with Cambria on nearly every surface: Bridport on the shower surround and walls; Cambria Black baseboards and trim; and Bridport, Cambria Black, and Sutherland on the tiled floor.
---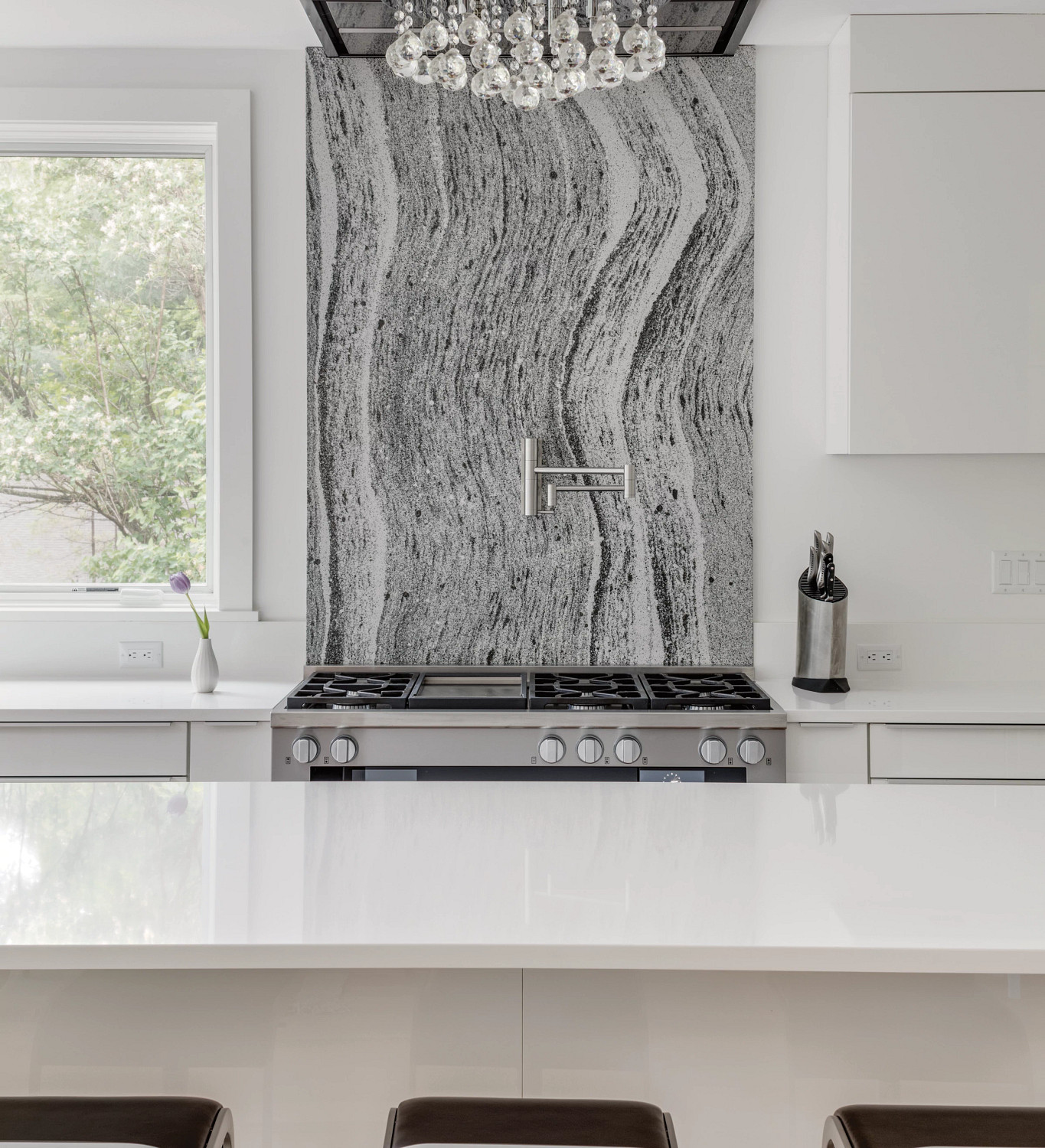 "Cambria is an ideal material for a backsplash treatment like this one, because you get that high-impact moment without the maintenance of the grout lines tile would have," says Sally DeGan. Cambria design shown: WHITE CLIFF and Roxwell.
NO. 2: SCANDINAVIAN MODERN
Architect SALLY DEGAN let her clients' personal aesthetic inspire her design for the renovated kitchen of an older New England home. "The couple is originally from Sweden, and they like clean, Scandinavian design — but with a modern twist," says DeGan. Accordingly, the architect specified high-gloss Poggenpohl cabinets throughout and combined Cambria's White Cliff on the countertops with Cambria Roxwell as a dramatic focal point on the backsplash. "The Roxwell behind the range has great movement — it almost looks like flames," says Jon Mancini of installer and fabricator BOSTON COUNTERS. Natural oak floors lend an organic softness underfoot, balancing the glossy white, gray, and stainless steel palette.
---
"We were going for a little bit of a Palm Springs look, which meant plenty of easy elegance," says Traci Connell. "Warm metallic finishes, [Cambria quartz] countertops, leather-accented light fixtures—there's something a little 'extra' wherever you look." Cambria design shown: COLTON.
NO. 3: Raising The Bar
To give a petite poolside bar of the Kips Bay Decorator Show House Dallas a glamorous look befitting its setting, designer TRACI CONNELL pulled out all the stops, layering luxe textures and patterns on every available surface. "The richly textured, whimsical wallpaper gets all the attention," says Connell, "but the other surfaces, from the faux-shagreen wall covering on the back wall to the fluted cabinet doors to the Cambria Colton countertops add the layers of rich interest that make the space."
---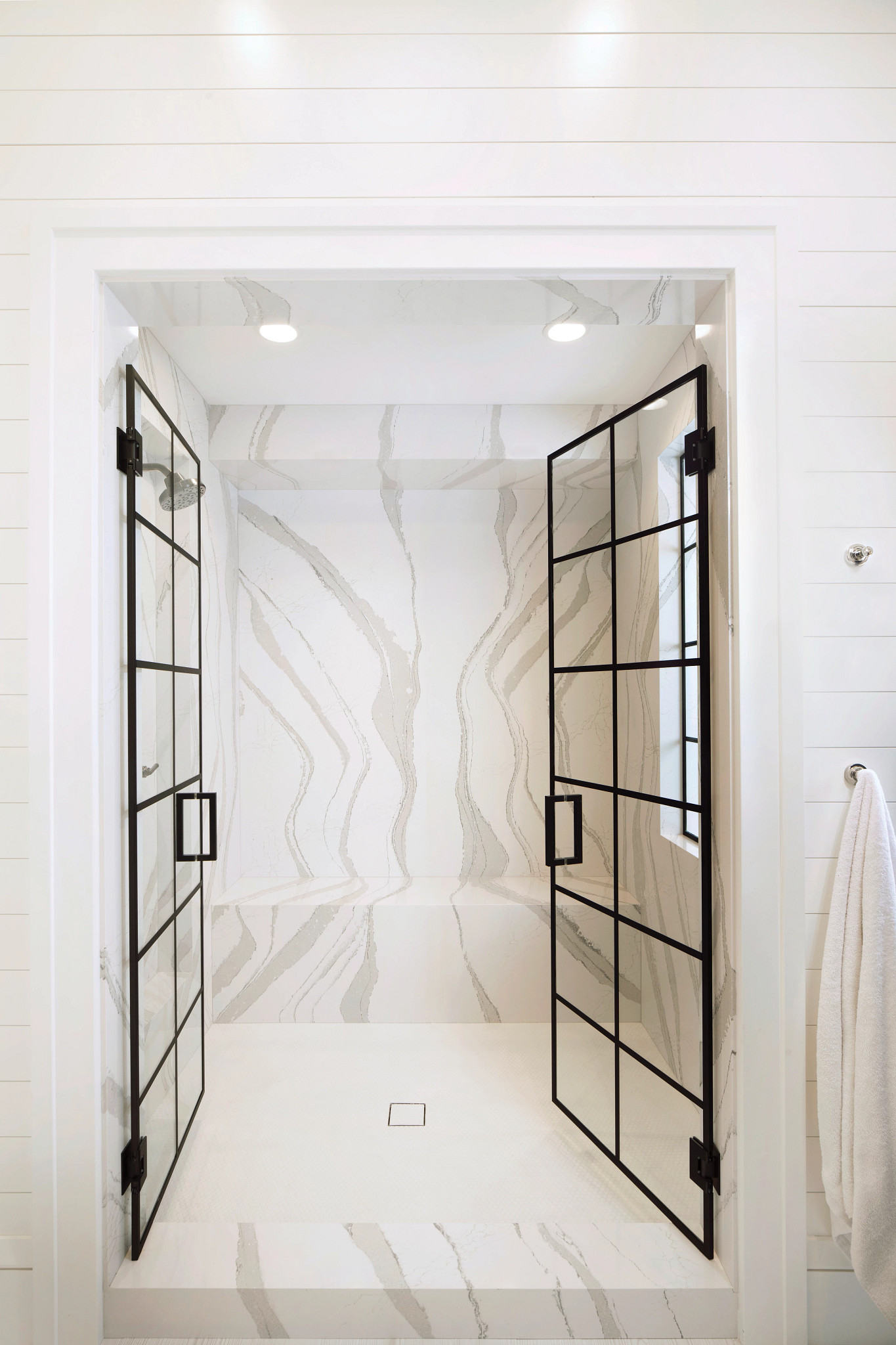 "Interesting finishes — a wire-brushed finish on the vanity and nickel-gap shiplap on the walls — help add softness to spaces (like bathrooms) that are full of hard, reflective surfaces," notes Amanda Lorenz. Cambria design shown: BRITTANICCA.
NO. 4: Clean Contrast
In the spectacular bathroom she created for former Minnesota Viking Kyle Rudolph and his wife, Jordan, AMANDA LORENZ of Henri Interiors let a very special material drive the design. "When we saw the possibilities for seamless vertical installation at the Cambria factory, Jordan knew immediately that she wanted the Brittanicca design in her bathroom," says Lorenz. To give the space a "contemporary but warm and inviting" look, Lorenz balanced the sleek stone shower with rich textures throughout the rest of the space—and added subtle farmhouse flavor with a boldly contrasting metal shower door.
---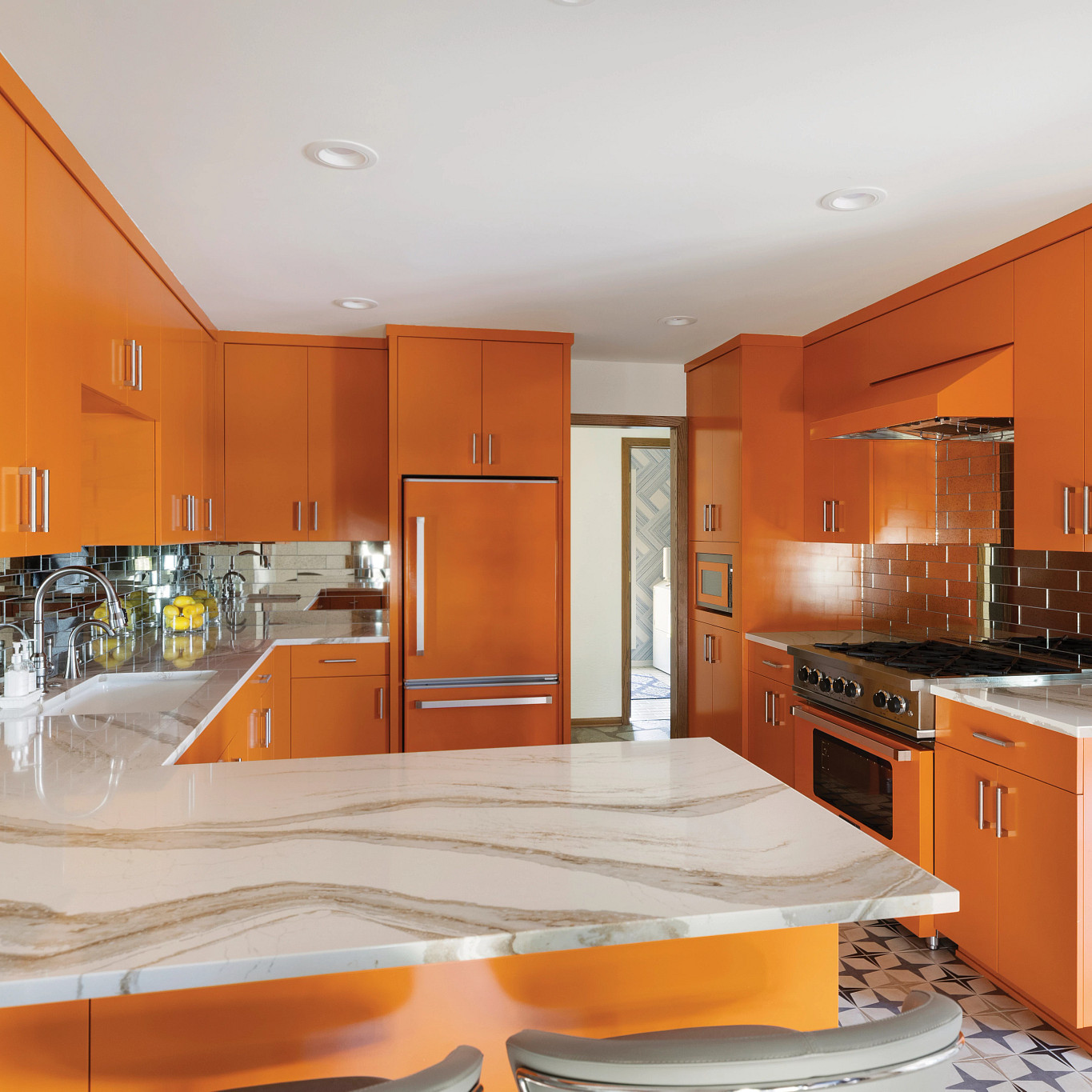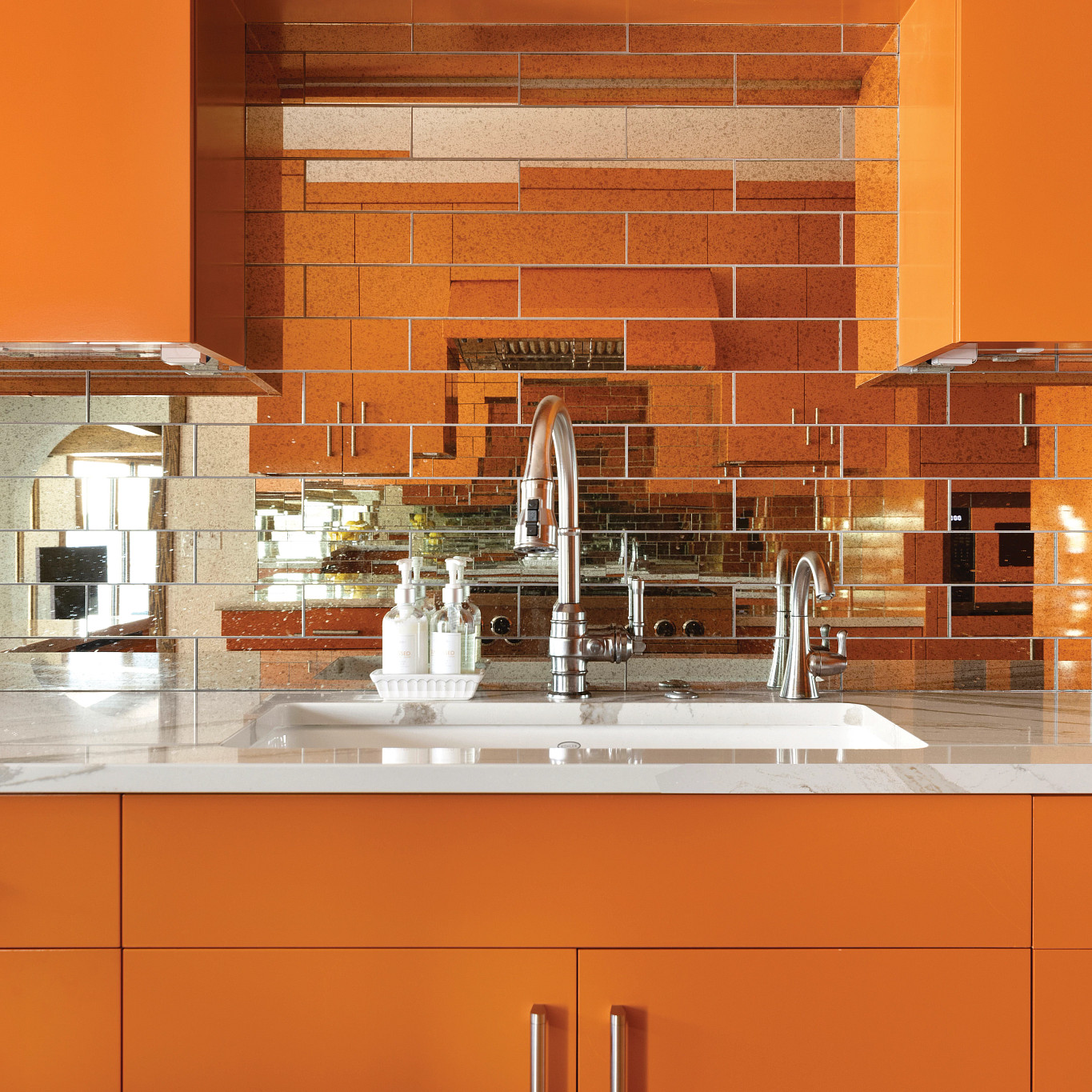 NO. 5: Colorful Personality
When renovating a Lake Minnetonka weekend home, designer SARAH RANDOLPH let the 1970s architecture and its owners' personalities guide her design plan. "The whole vibe was just 'have fun,'" says Randolph. That attitude comes through in full force in the kitchen. "My clients had found this great, retro refrigerator, so we matched the cabinets to its high-gloss orange finish," Randolph says. Cambria countertops in warm BRITTANICCA GOLD were a natural choice for their durability and easy maintenance— essential in a house that's all about fun.
---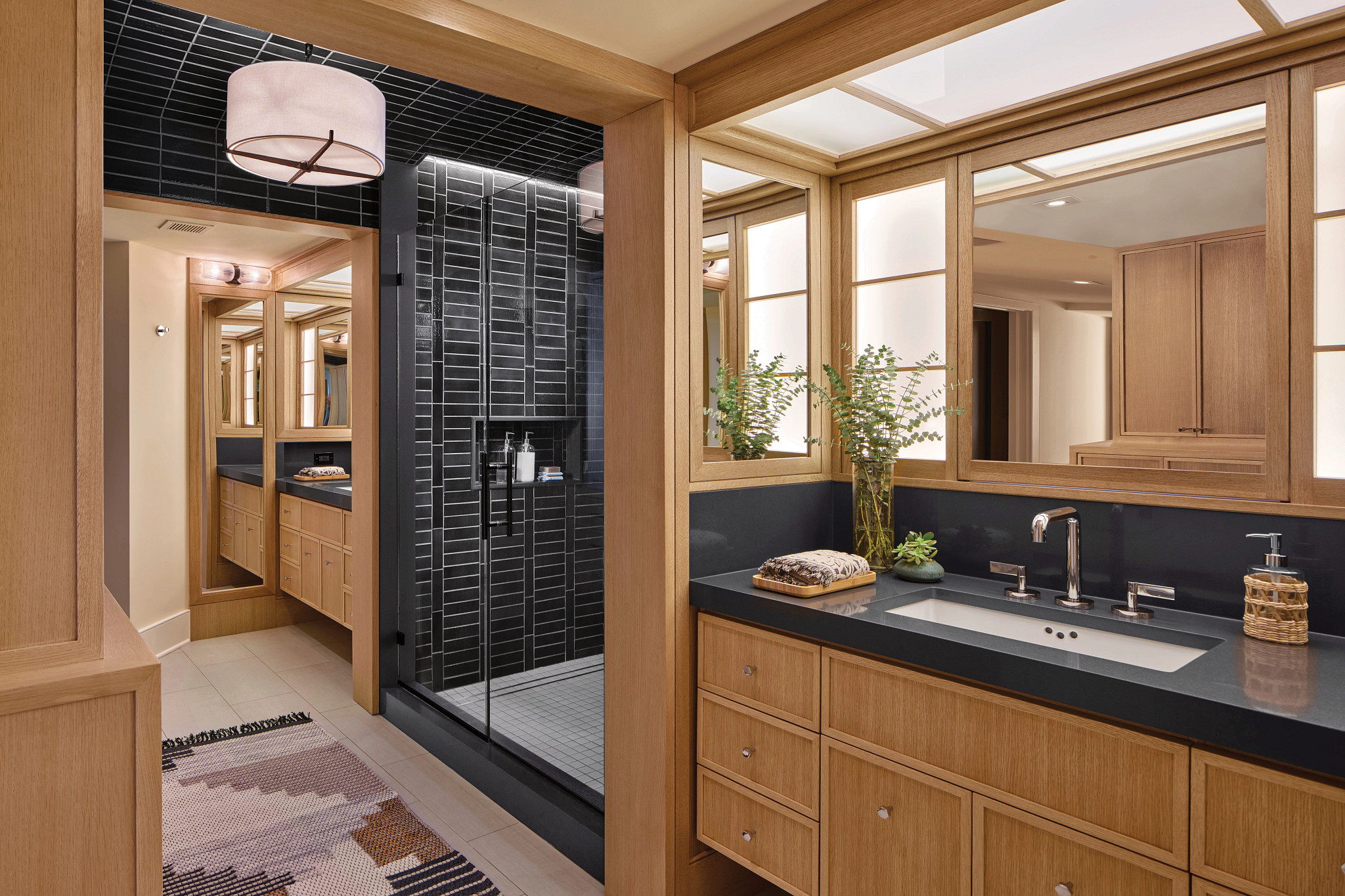 "Sometimes people are hesitant to use deep, saturated tones in a small room or one with low ceilings, but those darker colors can actually create an 'infinity' effect that visually expands the space," advises Marco Angelucci. Cambria design shown: FIELDSTONE.
NO. 6: Light Effects
When it came time to update his clients' coastal vacation home, designer MARCO ANGELUCCI had to find creative ways to maximize style and function while adhering to strict local building restrictions. In the primary bathroom, for example, he placed the vanities in front of the room's main windows and used translucent panels inspired by Japanese shoji screens to create symmetrical illumination (and provide privacy). To make the neutral space more dynamic, he used contrasting tones and textures, playing low-luster finishes on the cabinets and floors against glossy Cambria Fieldstone countertops and slightly iridescent ceramic tiles.